Special equipment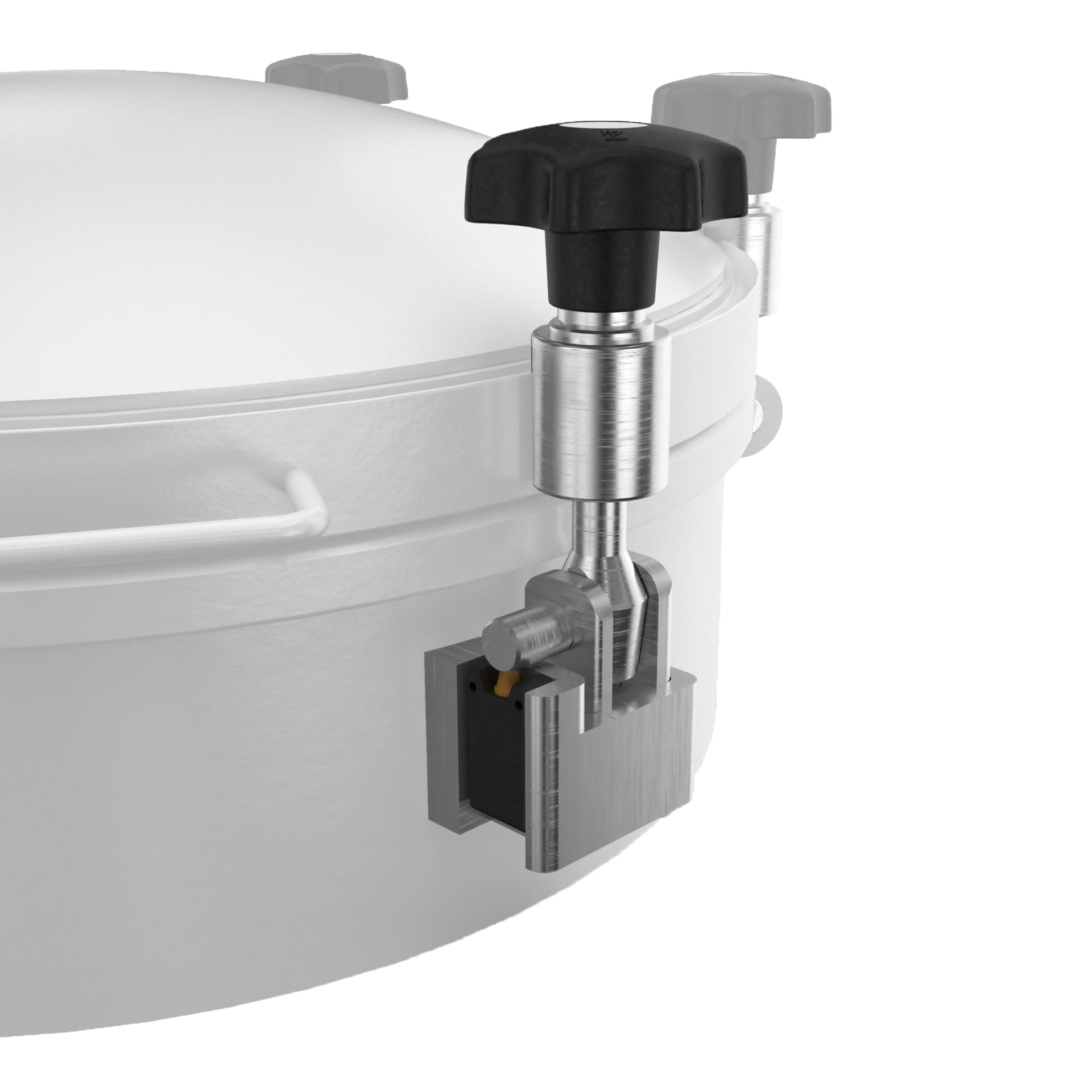 Safety eye bolt
This safety feature serves to indicate whether or not a bolt is closed and tightened. It is first necessary for the bolt to pull the cross-bolt up by tightening the star handle against the force of the spring thereby releasing a limit switch. When the threaded bolt is loosened the dead bolt moves back down actuating the limit switch. This signal can then be used as a safety feature to determine whether or not the bolt is closed and tightened. A Bartec Model 07-2511 switch is used as a standard feature. Other switches may also be used. Please consult us if you have any questions.
Safety release system
The safety vent prevents the cover from flying open and injuring the operator when pressure is still present on the inside. An eye bolt (ideally nearly opposite the hinge) is equipped with a safety vent feature. The cover can be opened only when all bolts have been opened and the cover has been released manually from the retaining claws by lifting slightly (approx. 10 mm). When closing the cover, it is first necessary to close the bolt with the safety vent and then the others.
Pressure release system
Some mediums tend to be sticky. This means that the cover may be hard to lift or cannot be lifted at all even when the bolts are open. This positive venting feature allows the cover to be lifted mechanically by turning a bolt. Ideally the positive venting bolt should be welded on nearly opposite the hinge. The positive venting bolts are available only with stainless steel star handles.
Support wedge for side installation
The support wedge for side installation helps center the cover "automatically" when closing, ensuring optimum seal positioning. Due to the oblong hole at the hinge, the cover tends to tip when opening. This is not a disadvantage as such. However the cover does need to be centered again when closing. The support wedge helps here. It can be welded to the top on the cover or to the bottom on the collar flange and is normally supplied loose. In combination with the support wedge, brass bushings / plates are also installed in the hinge to prevent "galling".
Data sheet
Special equipment
Data sheet - Special equipment
Description
Anlüftsicherung
Safety release system
Zwangsanlüftung (mit Edelstahl-Sterngriff)
Pressure release system
Sicherheitsklappschraube, ink. Kleingrenztaster Typ Bartec 07-2511
Screw with safety device and limit switch type Bartec 07-2511
Auflagekeil für seitlichen Einbau (lose)
wedge for side installation (loose)