Aseptic-Line up to 6/-1 bar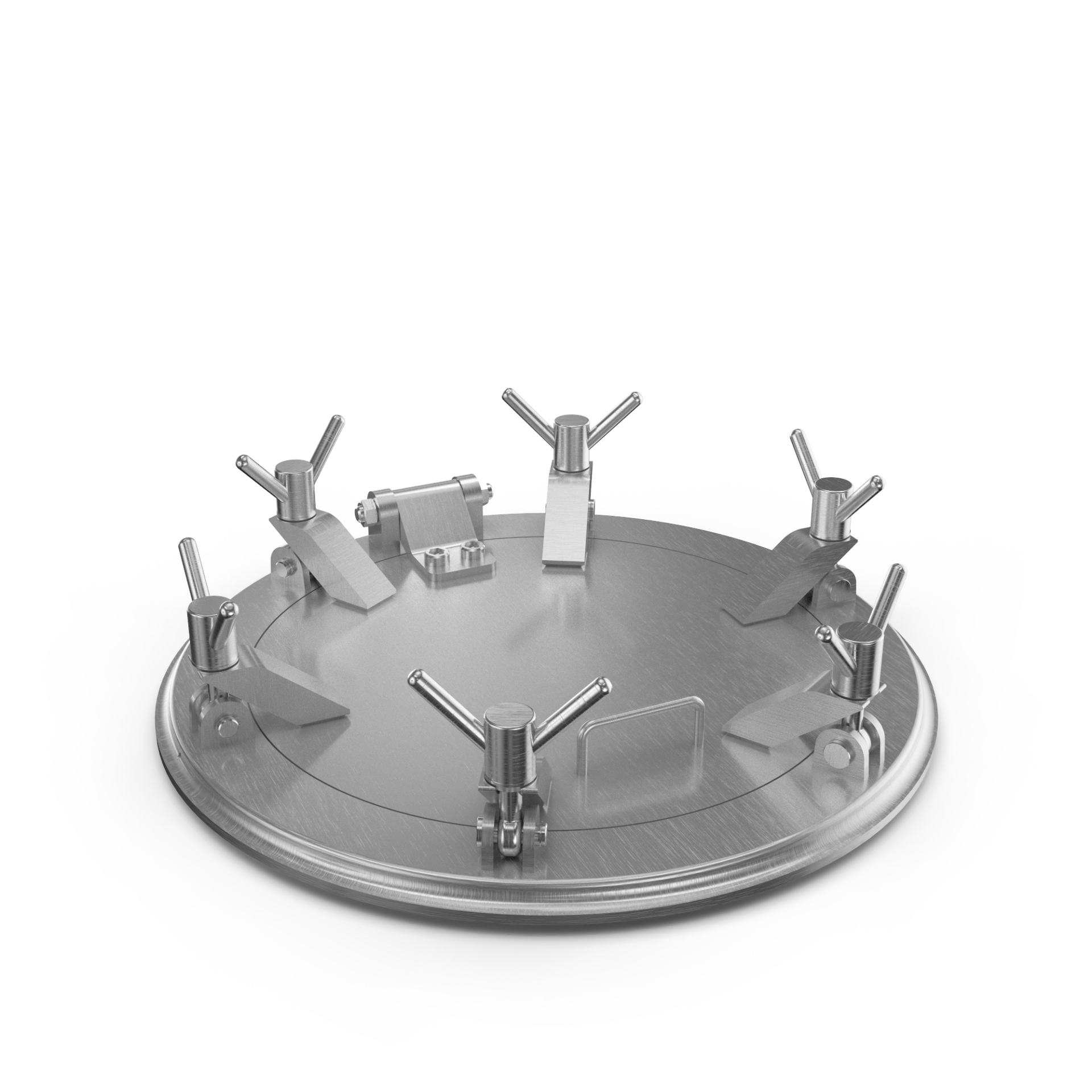 Product description
This cover has a seal flush with the vessel-wall, eliminating dead space. This version is suitable for pressure vessels.
Technical Details / Approvals
The ground version of this cover is approved by EHEDG (if internally polished to Ra< 0,8µm). The flat cover and design of the sealing groove guarantee a perfect seal on the inside of the vessel without dead space. If required, this cover can also be installed on the side in the vessel wall. Either with conical extension welded on or adapting (milling) the lid and flange to your vessel diameter. The hinge on this cover is absolutely clearance-free, which does, on the other hand, require particular caution when welding in the flange.
Advantages
Flush with the wall, without dead space
Aseptic sealing
No welding neck necessary
EHEDG approved (if internally polished Ra <0,8 µm)
Standard design
Wetted material: 1.4571
Attachment parts: 1.4301
Stainless steel toggles with knurl-washer
Silicone-gasket
Hinge (zero backlash) and handle
Surface machined (unpolished), pickled
Welding collar acc. customer requirements (standard h=6 mm)
With / without EU-approval (Modul G) acc. PED 2014/68/EU
Design Code: AD 2000-Merkblatt (with EU-approval)
Data sheet
Aseptic-Line up to 6/-1 bar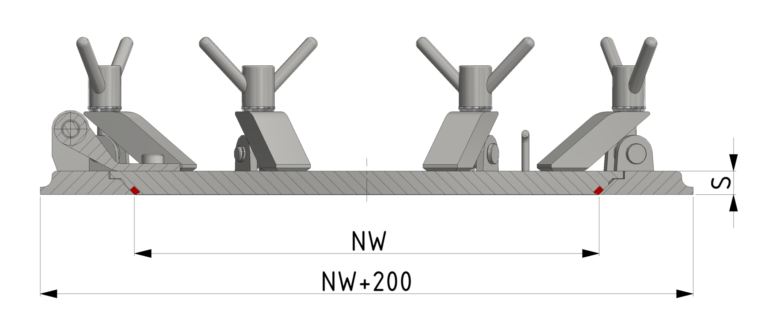 Data sheet - Aseptic-Line up to 6/-1 bar
Article No.
NW
MAWP
[bar]
max. temperature
[°C]
Number of
screws [M16]
Lid thickness
(S) [mm]
Weight
[kg]
22062004-ASL
200
6/-1
200
4
25
28
22562006-ASL
250
6/-1
200
6
25
37
23062006-ASL
300
6/-1
200
6
25
46
23542004-ASL
350
4/-1
200
4
25
46
23562006-ASL
350
6/-1
200
6
25
50
24042004-ASL
400
4/-1
200
4
25
64
24062006-ASL
400
6/-1
200
6
25
68
24542006-ASL
450
4/-1
200
6
25
78
24562008-ASL
450
6/-1
200
8
25
82
25022006-ASL
500
2/-1
200
6
25
73
25042008-ASL
500
4/-1
200
8
25
92
25062010-ASL
500
6/-1
200
10
28
96
26002008-ASL
600
0,49/-1
200
6
25
92
26022008-ASL
600
2/-1
200
8
28
96
26042010-ASL
600
4/-1
200
10
28
120
26062012-ASL
600
6/-1
200
12
30
144