Glass-Cover with Metaglass-pane up to 12/-1 bar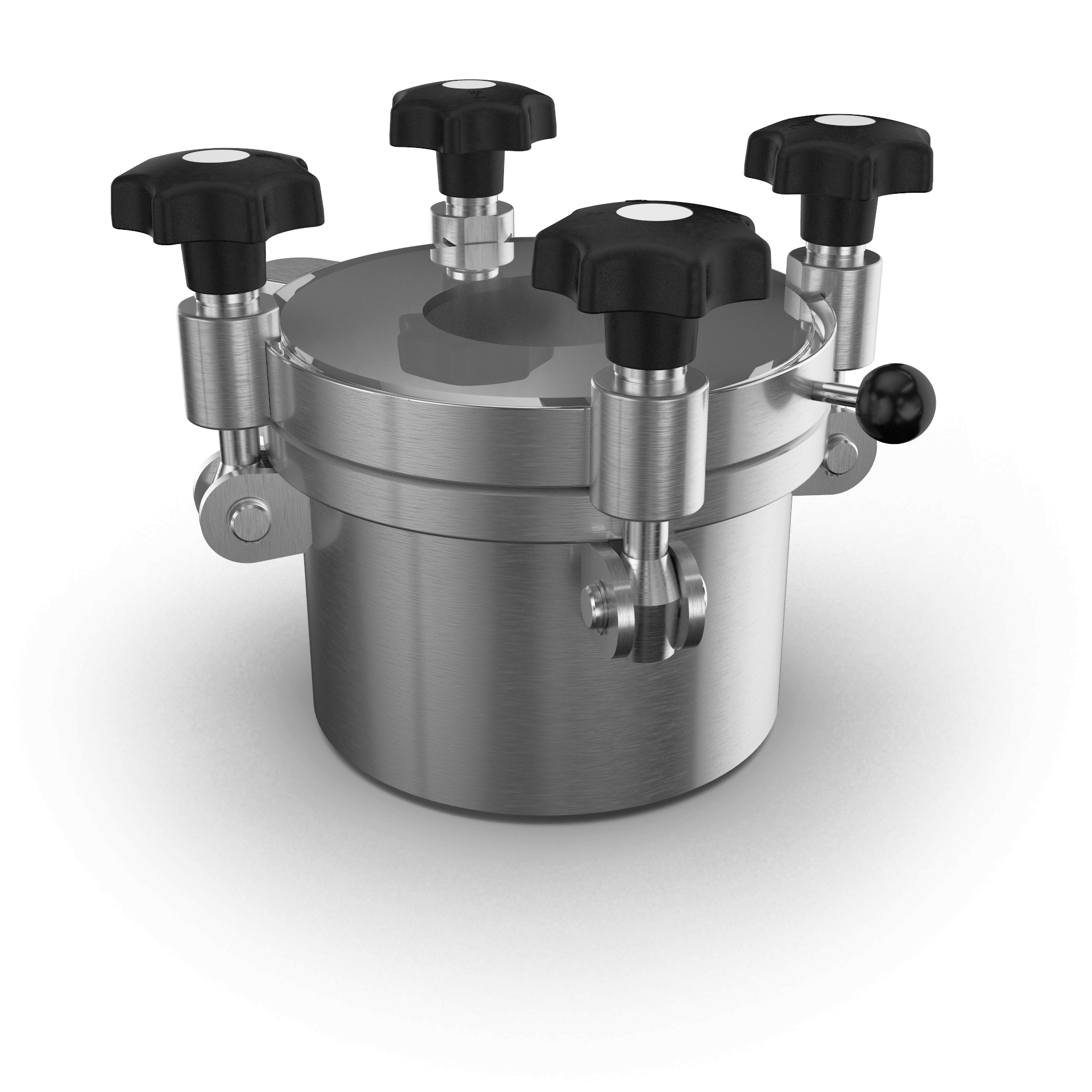 Product description
Similar to the Glass Pressure Cover, the Meta Glass Cover also serves as an observation window or small opening for taking samples from the vessel.
Technical details on this cover
Metaglas® from the Herberts Company is used for this cover. The viewing aperture in this cover depends on the outer diameter of the Metaglas® and is smaller than on the Glass Pressure Cover. On this version the seal is in the cover and therefore outside the working area in open condition. Installation of a light or wiper is also possible her, but due to the small viewing diameter not always recommended.
Standard design
Wetted material: 1.4571
Attachment parts: 1.4301
Metaglas®: 1.4462 / Borosilicate glass DIN7080
Plastic handles with stainless steel insert
Silicone-gasket
Hinge and plastic knob
Neck length 150 mm (*up to NW150 – 100 mm)
Surface unpolished, glass-bead blasted
With EU-approval (Modul G) acc. PED 2014/68/EU
Design Code: AD 2000-Merkblatt
Data sheet
Glass-Cover with Metaglas-pane up to 12/-1 bar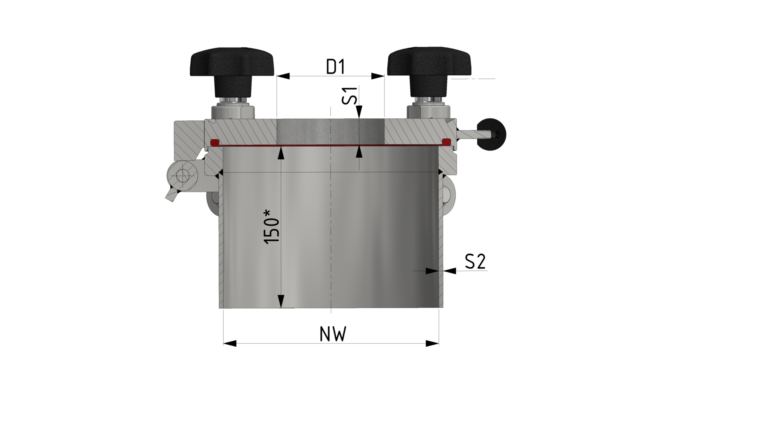 Data sheet - Glass-Cover with Metaglas-pane up to 12/-1 bar
Article No.
NW
MAWP
[bar]
max. temperature
[°C]
Number of
screws [M16]
Thickness of glass-pane
(S1) [mm]
Neck thickness
(S2) [mm]
Viewing
(D1) [mm]
Weight
[kg]
221 000 META
100
4
280
4
24
4
Ø60
14
221 012 META
100
12
280
4
24
6
Ø60
15
221 500 META
150
4
280
4
24
4
Ø75
15
221 504 META
150
10
280
4
24
6
Ø75
16
222 000 META
200
4
280
4
24
4
Ø100
19
222 010 META
200
10
280
4
24
6
Ø100
21
222 500 META
250
4
280
4
24
4
Ø125
26
222 508 META
250
8
280
4
24
6
Ø125
28
223 000 META
300
4
280
4
24
4
Ø150
30
223 006 META
300
6
280
6
24
6
Ø150
32