DIN Cover acc. DIN28125 Part 1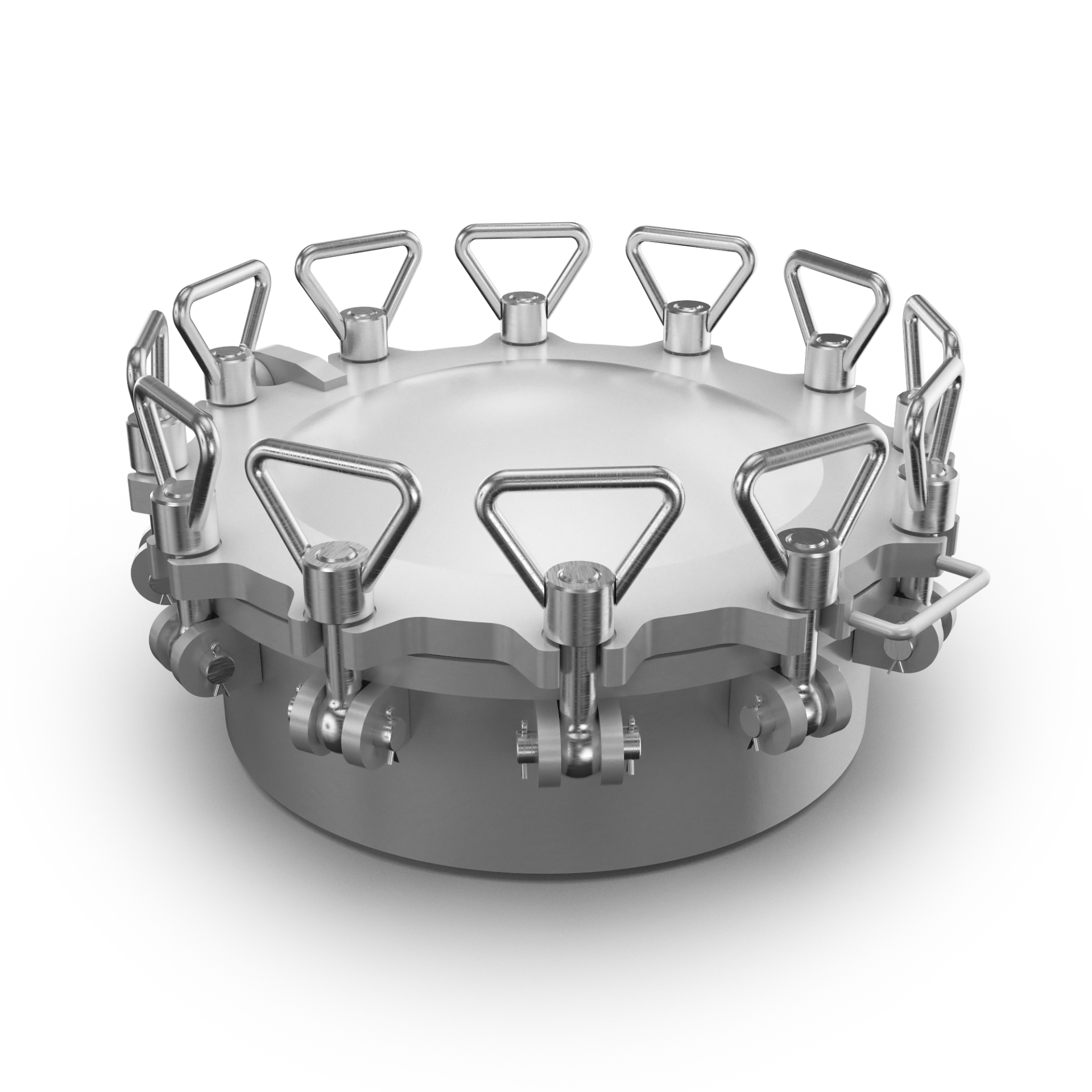 Product description
Round stainless steel cover complying to DIN28125 Part 1 for pressure vessels and equipment in technical processing plants. These hinged cover can be used as manholes (openings for entry by humans or for inspection).
Technical Data / Adaptation Versions
These covers can be used for the specified pressures and temperatures. Units for other pressures and temperatures can also be produced on request. Eyebolts in compliance with DIN444 are used. These manways can also be produced in dome shape (shape VGC or VGN). The version of sealing surface (shape VEC, VEN, VGC, VGN) can also be chosen freely. O-ring seals can also be used; in this case the sealing groove is incorporated into the cover. The covers are designed with square shape up to NW250, larger than NW250 round with corresponding slots for eyebolts.
Standard design
Wetted material: 1.4571
Attachment parts: 1.4301
Stainless steel triangle nuts
Klingersil C-4430-gasket
Flat gasket surface (shape VEC)
Hinge and handle
Neck length (H1) 200 mm
Surface unpolished, glass-bead blasted; from NW600 unpolished, pickled
With EU-approval (Modul G) acc. PED 2014/68/EU
Design Code: AD 2000-Merkblatt
Data sheet
DIN Cover acc. DIN28125 Part 1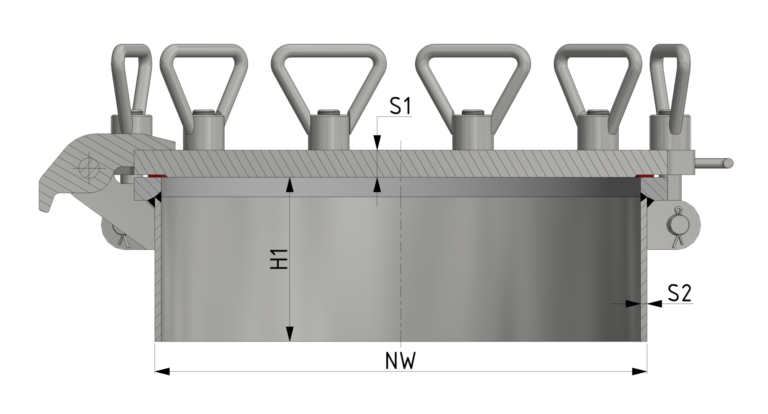 Data sheet - DIN Cover acc. DIN28125 Part 1
Article No.
NW
Inside diameter
[mm]
MAWP [bar]
at 50/-10°C
MAWP [bar]
at 120/-10°C
MAWP [bar]
at 200/-10°C
MAWP [bar]
at 250/-10°C
MAWP [bar]
at 300/-10°C
Lid thickness
(S1) [mm]
Number of screws
Neck thickness
(S2) [mm]
Weight
[kg]
2151254VEC
150
Ø140
8
7
6
5
4
4x M20
20
5
26
2151254VEN
150
Ø140
10
9
8
7
6
4x M20
20
5
26
2201254VEC
200
Ø190
8
7
6
5
4
4x M24
20
5
35
2201254VEN
200
Ø190
10
9
8
7
6
4x M24
20
5
35
2251254VEC
250
Ø238
8
7
6
5
4
4x M24
25
6
48
2251254VEN
250
Ø238
10
9
8
7
6
4x M24
25
6
48
2301256VEC
300
Ø284
8
7
6
5
4
6x M24
25
8
65
2301256VEN
300
Ø284
10
9
8
7
6
6x M24
25
8
65
2401256VEC
400
Ø384
8
7
6
5
4
6x M27
25
8
100
2401256VEN
400
Ø384
10
9
8
7
6
6x M27
25
8
100
25012510VEC
500
Ø484
8
7
6
5
4
10x M27
30
8
152
25012510VEN
500
Ø484
10
9
8
7
6
10x M27
30
8
152
26012512VEC
600
Ø584
8
7
6
5
4
12x M27
30
8
178
26012512VEN
600
Ø584
10
9
8
7
6
12x M27
30
8
178